A water leak can be devastating for a homeowner, from the destruction of personal possessions and property damage, to the cost of repairs and high water bills. Unfortunately, many people are caught off guard when they realize their insurance policy doesn't cover the damages.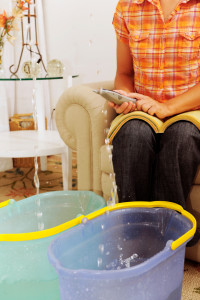 Most insurance policies cover accidents or sudden water leaks, though what is considered sudden may vary from insurance companies. For instance, lightening struck the big oak tree in the front yard that comes crashing down on your roof and rain water is now covering your new hardwood floors, or the malfunction of an appliance, is usually covered under most insurance policies. Most water leaks don't fall under this category.
Old hardware and aging water pipes are the source of many water leaks, though the homeowner just discovered the water damage, the insurance adjuster may not consider it an accident. The insurance adjuster may decide the water leak resulted from lack of maintenance. For instance, it is the homeowner's responsibility to replace aging pipes before the pinhole water leak dripped from behind the sink in the upstairs bathroom to the guest room downstairs, where Aunt Alice noticed the mold in the closet when she came to stay with you. Most insurance companies won't cover this type of longstanding damage.
The experienced technicians at the Leak Doctor understand water leaks can originate from a number of sources, from slab leaks, under flooring, between walls, under cabinets, hot water heaters, laundry facilities, under landscaping, water supply and return lines, pools and spa equipment. Our goal is to locate the source of the water leak and provide insurance adjusters with a detailed and clearly written electronically generated report, available within 24 hours. Photographs taken before and after for documentation and communication with the adjuster while on the job site about the findings.
The Leak Doctor has been serving insurance companies in the Orlando and Atlanta area for decades. We take pride in our efficiency, professionalism, integrity and compassion. We use the latest technology and equipment to detect moisture and water leaks to save insurance companies money and save the home or owners a lot of frustration.