Why are so many insurance adjusters choosing the Leak Doctor for all their plumbing leaks and repairing cast iron pipes in Central Florida, Orlando and the Atlanta area? 
Because the Leak Doctor has invested in the latest technology, it allows for the most accurate detection. Since 1993 our accurate, non-invasive detection of hidden water leaks has reduced claims and restoration costs by minimizing tear outs.
Our continuous research, development, and training allows us to streamline our non-invasive leak detection to better serve the insurance industry.
How does the Leak Doctor ensure that you always receive excellent service?
Our technicians go through an intensive training program when hired, and continue to take classes and receive updated training.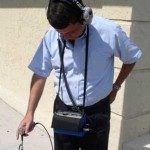 Our employees undergo extensive background checks prior to being hired and are neat in appearance, polite, drug-free, and respectful of your
 property.
Our professional uniforms and ID badges provide additional security for the homeowner.
Our technicians will check your entire plumbing system and make the correct diagnosis for your leak problem.
Our goal is to educate the customer during every step of the process.
Our staff's extensive problem-solving experience means a prompt and efficient resolution to your problem.
Our technicians will locate your leak and take extra care to leave your home in the condition in which they found it.
Get started by filling out our assignment form or call us at 407-426-9995
We guarantee accurate location of the source of the water leak, detailed report of our findings, before and after photos, videos, to allow for minimal tear outs and put back costs.
We provide a full detailed report, electronically created, in a user friendly format, and available online within 24 hours or same day as the service call.
These reports will assist you in determining loss coverage and help develop accurate cost estimates that will reduce total claim payout.